VIJAY ROYAL VILLAS THONDAMUTHUR
DHALIYUR – THONDAMUTHUR, VADAVALLI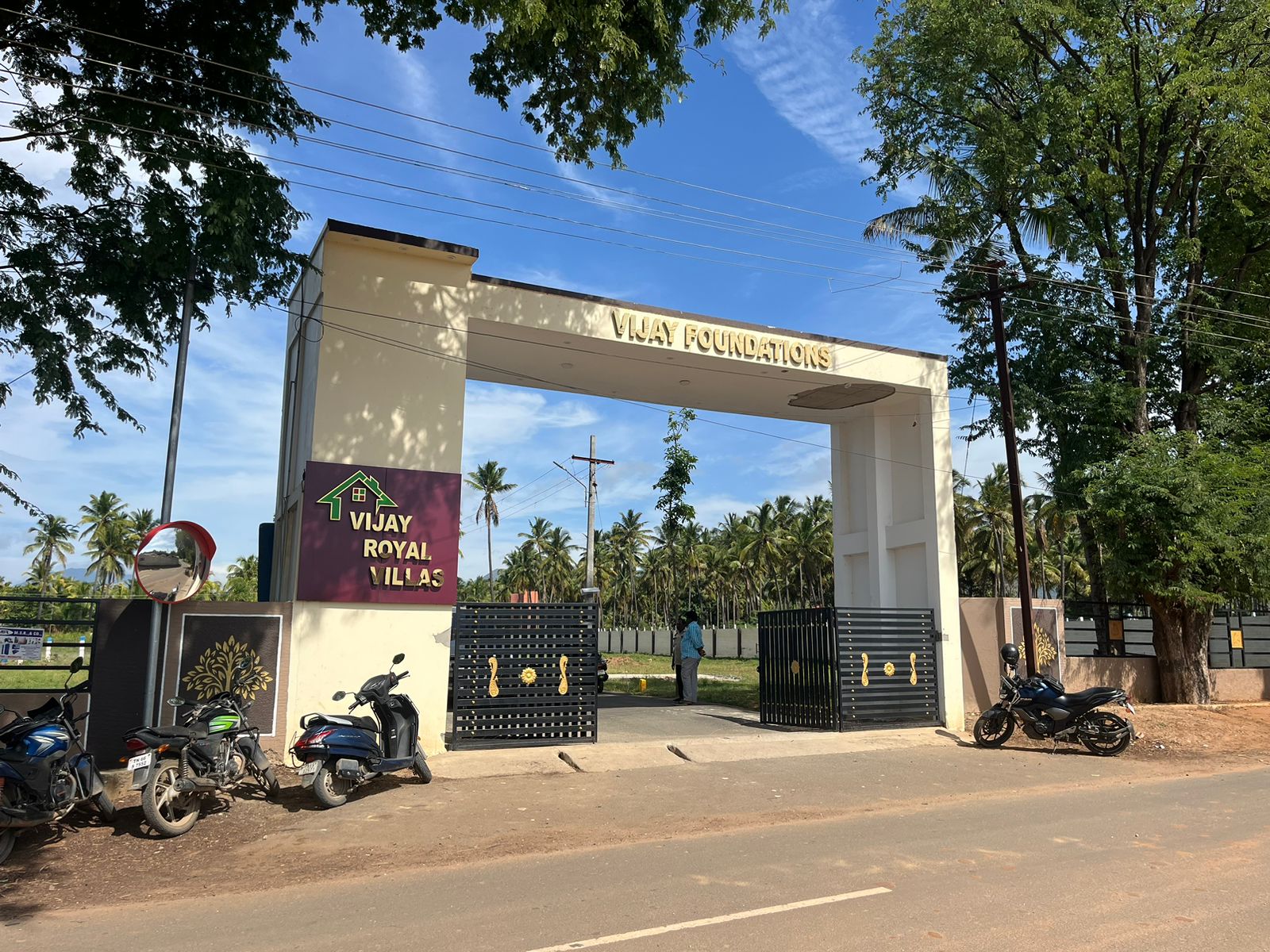 PROJECT INFORMATION
Total Area - 2.5 Acres
Total Units - 45 Units
Land Area -
Location - Dhaliyur – Thondamuthur, vadavalli
Highlight - Isha Yoga Center
Road Width -
VIJAY ROYAL VILLAS THONDAMUTHUR - DHALIYUR – THONDAMUTHUR, VADAVALLI
Vijay Royal Villas, a DTCP-approved project on about 2.5 acres of land, comprises 45 units. Vijay Royal Villas is a residential project in Dhaliyur-Vadavalli, Coimbatore,  located very close to Delhi Public School.

Choose from one of 45 plots in a spacious community with beautifully designed villas. Vijay Royal Villas are very easily accessible to the city; it takes just a km to reach Coimbatore (Dhaliyur, Thondamuthur, and Vadavali.
Explore your dream home where you feel satisfied, The real estate properties in Thodamuthur are actually new projects that were developed with great and professional developers. The properties are in the ready-for sale stage.
This is the best opportunity for you to buy your dream home.in Vijay Royal Villas in the location of Coimbatore because plots and villas in Thondamuthur are already ready for sale. This is the best time to start your investment journey or make your next big investment decision to buy real estate properties in Thondamuthur.
The plots and villas in Vijay Royal Villas are constructed with DTCP approval and are considered to be great residential properties to buy in Coimbatore's prime location, Thondamuthur, which offers high-class amenities.
The plots and villas are the gated community properties, which are exactly located near Thondamuthur-Dhaliyur Road. The best spot to buy real estate properties that have a well-developed location in Coimbatore
To find residential land and properties in a well-established location at an affordable budget, plots and villas in Vijay Royal Villas are a great choice for you.
The location advantage is that the properties are nearly 2 km away. Kongunadu Nursing College, the best education institution in Coimbatore, will help you find the best education option for your children.
The plots and villas are located in nearly Prasanna Hospital. You can reach Prasanna Hospital in 1.7 km with 20 mimutes, and the Government High School is in 1.5 km.
Vijay Royal Villas is the great location that connects you with the great facilities in Coimbatore hassle-free and conveniently to meet your needs. The Propertis are surrounded by
Genesis Shopping Complex within a distance of 400 metres,
Bharathiyar University in the distance of 8 km,
Isha Temple in the distance of 13 km,
Coimbatore Junction at 14.8 km,
Marutham Soprts Arena in 7.9 km
This is why we are saying that the This is a great opportunity for you to buy your dream home in Vijay Royal Villas, which is located in a well-established location that meets all your needs efficiently.
Book your property visit immediately. This is a great time to secure your investment in real estate and buy your dream home with Vijay Royal Villas.
Do something great for your future generation now. Call now : +91 99629 86986.  
PROJECT AMENITIES
Boundary Compound Wall
Tar Road
Tar Top Road
Individual Water Pipeline
Pure Siruvani Water
24 X 7 Guard
Entrace Arch
Do you have any plans for future investments!
Investing in real estate can be successful, but going it alone can be challenging and highly risky. Not to worry, We got you covered. We assist you in locating spacious plots and luxurious homes. Together, we can shape your destiny.
Contact Us